INTERNATIONAL COOPERATION
JPEC implements long-term dispatch of researchers to Europe(Brussels) and US (Chicago) for gathering information. JPEC endeavors to built a global petroleum network, sharing information with energy/petroleum organizations throughout the world.
① Asia
JPEC has been promoting technology exchanges with China, South Korea and ASEAN members, focusing on technology policies related to petroleum, refining facilities, and technical issues on fuel oil quality. We have also constructed an information network to strengthen relations with government-affiliated organizations and oil companies in each nation.
[Japan-China-Korea Petroleum Technology Congress]
JPEC, Chinese Petroleum Society, and Korea Institute of Petroleum Management (K-Petro) jointly organize a congress annually to discuss and exchanging information on the latest petroleum technologies in the three countries.
[Japan-Thailand Technical Information Exchange Meeting]
JPEC and PTT, a state-run oil company of Thailand, share information on the status quo and the future trends of fuel quality, biofuels and refining technologies.
[ASEAN Council on Petroleum (ASCOPE) - JPEC Workshop Meeting]
JPEC participates in a workshop meeting of the ASCOPE council composed of 10 ASEAN countries aiming to built a network of management-class personnel in member countries. JPEC utilizes an opportunity in the workshop to obtain the trends in the regulations on fuel oil quality and also in biofuel technologies in Asia and to inform Japan's technologies for energy saving, heavy oil cracking and catalytic cracking.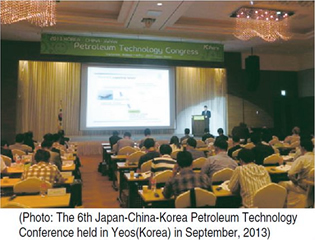 ② North America
JPEC has researchers on long-term dispatch basis to the US(Chicago), and conducts exchange with U.S. government, its major US government-affiliated and energy- related organizations including the Department of Energy (DOE) and the Environmental Protection Agency (EPA) to collect the latest information. Information regarding the orientation of energy policy and consequent, technological trends, environmental protection measures, and trends in the use and production of biomass fuels in the US.
③ Europe
JPEC has researchers on long-term dispatch basis to the Belgium (Brussels), and conducts exchange with the European Commission (EC), major European government-affiliated, energy-related agencies and European oil companies including Conservation of Clean Air and Water in Europe (CONCAWE), in order to acquire the latest information on the status of EU initiatives in the area of environmental and fuel quality, and on technological development and other concern.
[Japan-Europe Petroleum Technology Meeting]
The meeting enables JPEC to exchange information concerning fuel quality standards, trends in environmental regulations, and technical issue with CONCAWE, a group that lobbies for more technology favorable policies in Europe. By this means, we are able to obtain a variety of information that contributes to the formulation of policies and business strategies in related fields in JAPAN.